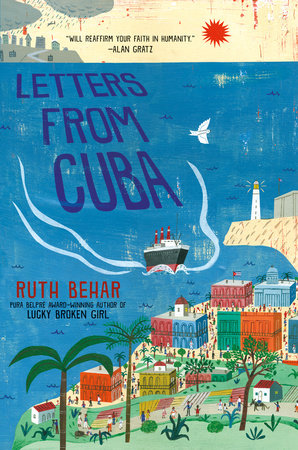 Happiest of book birthdays today to Ruth Behar's Letters from Cuba.
My Fountains of Silence trip to Madrid was still on the forefront of my mind when I read this book back in early, pre-Covid March. I was all set to plan my next international trip. Little did I know how much the world would change in a matter of days.
And here we are 5 1/2 months later celebrating the book birthday of the story of Esther, a Polish immigrant in Cuba. It's 1938 and Esther joins her Papa in Cuba, leaving behind her sister, Malka, three brothers, her mother and Bubbe. Together Esther and Papa work hard to save money to bring them all to Cuba. This is their story as Esther's letters to Malka.
I loved this book. Thought it was even better than Ruth's Pura Belpre winner Lucky Broken Girl, which says a ton coming from another Briarwood PS 117 girl. It teachers us so much about hope, perseverance, acceptance, diversity, coping with prejudice. Read it with Emma Otheguy and Beatriz Vidal's Marti's Song for Freedom, Margarita Engle and Mike Curato's All the Way to Havana and another new middle grade novel about immigrants and food, A Place at the Table by Saadia Faruqi and Laura Shovan. Yes, I love when food shows up prominently in my books and this one is no exception. To begin with you will be yearning for challah, sour cherry tea, latkes and bananas.
Need to take a trip without getting on a plane or even in a car? This book is perfect then. Find Letters from Cuba today, cozy up in your favorite reading spot and bon voyage.